GIFTS
Probably the most frequent request I receive is to make suggestions for Tolkien-related gifts. Here are my suggestions. Without flattering myself too much, I believe I have a talent for matching gifts to the recipient. The rules for great gifts are really simple:
1) Get to know the interests of the person you are planning to give a gift. This sounds simple but it may require knowing a little more than just the simple fact that the person is interested in Tolkien or any other general area. Does this person also like original artwork, coin-collecting, old books, or cool vintage stuff from the 1960s? Some gift-givers shy away from gifts that are clearly in the major area of the recipient's collecting domain. After all, the recipient is already very knowledgeable in the collecting area and you are not. The simple fact that you thought enough about the person to find something in their collecting area will win lots of points even if the item is one that the recipient already owns. One of the best gifts you can find is something unusual that the collector has never seen before. This may be easier than you think.
2) Buy a gift of quality. High quality craftwork and materials will always be appreciated. High quality always keeps its collectible value or appreciates. High quality is always decorative and represents something collectors like to display.
3) Find something unusual or rare. This can be conventional, such as a copy of the Silmarillion signed by Christopher Tolkien; the item can also be inexpensive and something downright goofy, such as a set of MAD magazines with parodies of The Lord of the Rings. However, if you are not a Tolkien collector yourself, shy away from older rare and expensive collectibles, such as first editions of Tolkien's work. You need some knowledge to correctly purchase these. At least be careful when you purchase something like this. There are lot of items like this listed on auction and book dealer sites but they are often overpriced and/or incorrectly described.
If you find an unusual item of high quality, that combines two or more interests of the gift recipient, then you will likely hit a gift home run.
Some of the items below are a little off the beaten path. The major items are relatively easy to find. Some of the unusual, high-quality items are harder to find. Here are some suggestions:
<--The Lord of the Rings 50th Anniversary Edition

The JRR Tolkien Reader's Companion Set-->

I can't say enough about the production quality of these editions. They will be appreciated even if the gift recipient already has another set of The Lord of the Rings.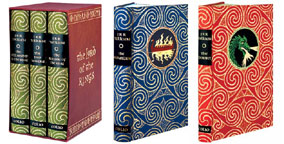 The Lord of the Rings and the Hobbit Folio Society Editions
The Folio Society publishes very high quality editions of the classics. Tolkien's works have always appreciated in value. You can get these if you subscribe to the Folio Society, purchase from antiquarian book dealers or search and bid on Ebay. Here is a link to the largest book search on the internet:
| | |
| --- | --- |
| | These pipes are made by Vauen in Germany. They are superb quality and will keep their value. Of course, no one should actually smoke them if they are to keep their value. There was a pipe made for every major character who smokes. |
Here are some off-beat sites that sell Tolkien artwork, including signed prints:
If you really want to blow away the gift recipient, order the Unexpected Party print signed by the Hildebrandt Brothers at this site. It is a real sleeper at $30:
Storytelling Conference Poster
My final piece of advise is to peruse this site. If you find something interesting that was sold in the past and no longer available retail, then conduct a search on Ebay. Virtually everything eventually comes up on Ebay. You just have to be patient.