General Collecting Sources and References

The Tolkien Society. Anyone interested in Tolkien should join the Tolkien Society. The society publishes Amon Hen, a newsletter that includes numerous articles and announcements of interest to the Tolkien collector. They also offer for sale a multitude of Tolkien items that are only available in England. They make payment easy by taking credit cards. Link to their site and sign up for membership.
Daerons Books. These folks are a great source for books and collectibles. They also carry items related to the works of all the Inklings. They also take credit cards. Through the years, I have purchased numerous items from them. They are the best at finding the rarest items.
Thorntons of Oxford. Although primarily a bookstore, Thornton's sells a number of other Tolkien items, such as ephemera, videotapes and audio recordings of Tolkien's work. The retail bookstore is located in the center of Oxford and has a great selection not available on the website. You should stop in when you make your pilgrimage Oxford.
The Tolkien Shop. This is a regular source for a number of older and unusual items, from -Frodo Lives- pins to first editions. I have purchased books and posters from Rene and everything was perfect.
The Minds Eye. This company sells its own audio dramatization of the Lord of the Rings, t-shirts, sweatshirts,figurines, books and prints. The Mind's Eye, Memory Lane, P.O. Box 6547, Chelmsford, MA01824-0947. 800-949-3333. This company has moved around in recent years and I hope this info is correct. I could not find a web page for them.
The Tolkien Information Page. This page is a comprehensive listing of Tolkien links from all over the web. It includes a host of links, from Games to Tengwar fonts.
Tolkien Enterprises. Tolkien Enterprises is a division of the Saul Zaentz Company, which in 1976 acquired certain exclusive rights to the names and characters associated with Middle-Earth, and in 1978 produced a feature-length animated film of The Lord of the Rings, directed by Ralph Bakshi. Tolkien Enterprises licenses the names and likenesses of the characters, places, things and events for use as trademarks and service marks in connection with various lines of merchandise. Virtually all of the figures, pins, posters, t-shirts and a host of other items were licenses by Tolkien Enterprises. They must also be connected in some way to a company called Elan Merchandising. I expect Elan Merchandising was specifically connected with the movie merchandising but I do not know for certain. Many movie-related items are marked Elan Merchandising.
al.fan.tolkien. The alt Tolkien newsgroup. The two major Tolkien newsgroups are largely redundant and there is considerable cross-posting. Use newsgroups to buy and sell collectibles, make announcements about items you have on the internet auctions and discuss middle-earth.
rec.arts.books.tolkien. The rec Tolkien newsgroup. The two major Tolkien newsgroups are largely redundant and there is considerable cross-posting. Us newsgroups to buy and sell collectibles, make announcements about items you have on the internet auctions and discuss middle-earth.
A Listing of Tolkiens Books. This is a concise listing of TolklienŐs published works. It is not a complete bibliography.
Works About Tolkien. This site has a nice listing of books about Tolkien.
J. R. R. Tolkien: A Descriptive Bibliography. (1993). Wayne G. Hammond with the assistance of Douglas A. Anderson. New Castle, DE: Oak Knoll Books. Oak Knoll BooksIt is also available from St. Paul's Bibliographies, Winchester, U. K. Anyone willing to invest real mony in collecting books by Tolkien simply must have this book. It covers every known detail about the publication of his books. By reading around the minutia of publishing details, it is actually an interesting historical account of TolkienŐs trials and tribulations getting his works out to the public. Interesting themes come through in this account. It is clear from reading the material on the first edition of the Lord of the Rings that Allen & Unwin expected the book to be a failure as a business venture. Rayner Unwin says as much in his original communication to his father. That characterization of the book became a theme that worked its evil way through virtually every subsequent problem with publication, from the small printing of the first edition of The Fellowship of the Ring, to the copyright problems with a paperback version in the US. Since no one expected the book to do well, appropriate plans were not made to deal with the incredibly high demand for the book. Although Allen & Unwin had success with the Hobbit, and should have expected at least equivalent success with the Lord of the Rings, they could not have anticipated the frenzy of demand that developed, especially in the American mass market. Although HammondŐs mission in a bibliography is confined to publishing details, the story seeps through, and sections read like a journalistŐs account of a sailor making his way through the churning seas of publishing.
HarperCollins Publisher. This is the HarperCollins web site. You can purchase books directly from this site. However, the prices are retail and generally higher than other internet sources. This is a great site for discovering all the new Tolkien books that HarperCollins publishes.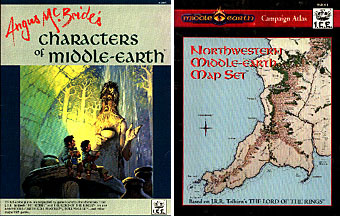 Iron Crown Enterprises - ICE. This was the company that made numerous Tolkien-related role-playing game modules, maps, puzzles, board games and card games. The most famous Tolkien product made by the company was the role-playing card game called Middle-earth: The Wizards. They produced a tremendous number of these cards. Virtually all the cards have great artwork and it only appears on these cards. Some of the artists involved, such as Ed Beard, have also done some posters and print series based on their artwork. ICE items come up frequently on the internet auctions.
The Dancing Dragon. This site offers Tolkien-related items from time to time.